30 years of women's representatives at FAU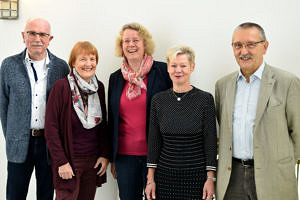 The chronicle "30 years of women's representatives at FAU" paints a picture of how efforts towards achieving gender equality at Friedrich-Alexander-Universität Erlangen-Nürnberg have developed over the years. After an introduction to the history of female researchers at German universities in general and at FAU in particular before measures for women's advancement were officially introduced in 1989, the chronicle describes the most important measures and initiatives launched in the following three decades thanks to the efforts of the women's representatives, followed by a detailed chronology accompanied by a number of pictures.
This is followed by more detailed reports about the most important areas of work on promoting equal opportunities, lists of the projects for which prizes are awarded and a brief overview of women's and gender studies in Germany and at FAU. The chronicle ends with an assessment of the situation at present and a look forward to the tasks and challenges likely to be faced by women's representatives in future. Against this backdrop, the publication honors the dedication of a number of different stakeholders over 30 years at FAU. At the same time, the chronicle highlights the sociopolitical factors motivating the move towards more gender equality, successes that have been attained and deficits there still are today.
The editors of the chronicle are Dr. Sabina Enzelberger, Prof. Dr. Annette Keilhauer, Manfred Enzelberger, Thomas A. H. Schöck, and Prof. Dr. Renate Wittern-Sterzel.
The chronicle was published by FAU University Press and is available by open access (PDF). It also includes an electronic appendix (PDF) with a compilation of relevant documents, newspaper excerpts and additional images documenting developments over recent years.
An event titled "30 years of women's representatives at FAU: The long path towards gender equality in academia" was held in the Orangerie in Erlangen on July 26, 2019. The occasion for the event was the naming of the first University Women's Representative at FAU on July 26, 1989. The chronicle was presented for the first time during this event.